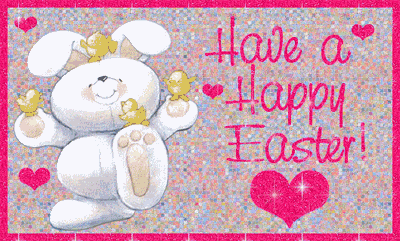 Glitter Graphics - GlitterLive.com
OK this year we decided to host a Easter brunch for Matt's Aunt, Uncle, Cousins, and 2nd cousin.
Quiche
Make your own breakfast sandwich
Cheesy Hash browns
Springtime Cookie Pizza
Mini Cheesecakes
Lemon Sugar Cookies
Fruit Salad
Pineapple Mimosa (Kid friendly)
Here's some pictures:
This was the sweets table, from left to right: Lemon sugar cookies, Springtime Pizza Cookie, and Mini Cheesecakes topped with fresh strawberries.
The table view, I put decorative Easter ribbons on the table.
The other side of the table. It was the first time I made the recipes. The only thing I didn't like was the Mimosa it was too kicky. I got kuddos from all even Matt (who is one of the pickiest men ever). He was reluctant on the Quiche, but I pulled it off and he loved it!
I also want to take a moment to say that even though I spent my Easter in my warm home surrounded by family; my heart and thoughts were with Heather my stepsister/best friend, Mark her husband/Matt's brother, and two of their daughters; who did not get those luxuries due to tragic, undeserved, circumstances. The truth will be revealed guys, and until it does I pray for you all.